How to Switch Internet Providers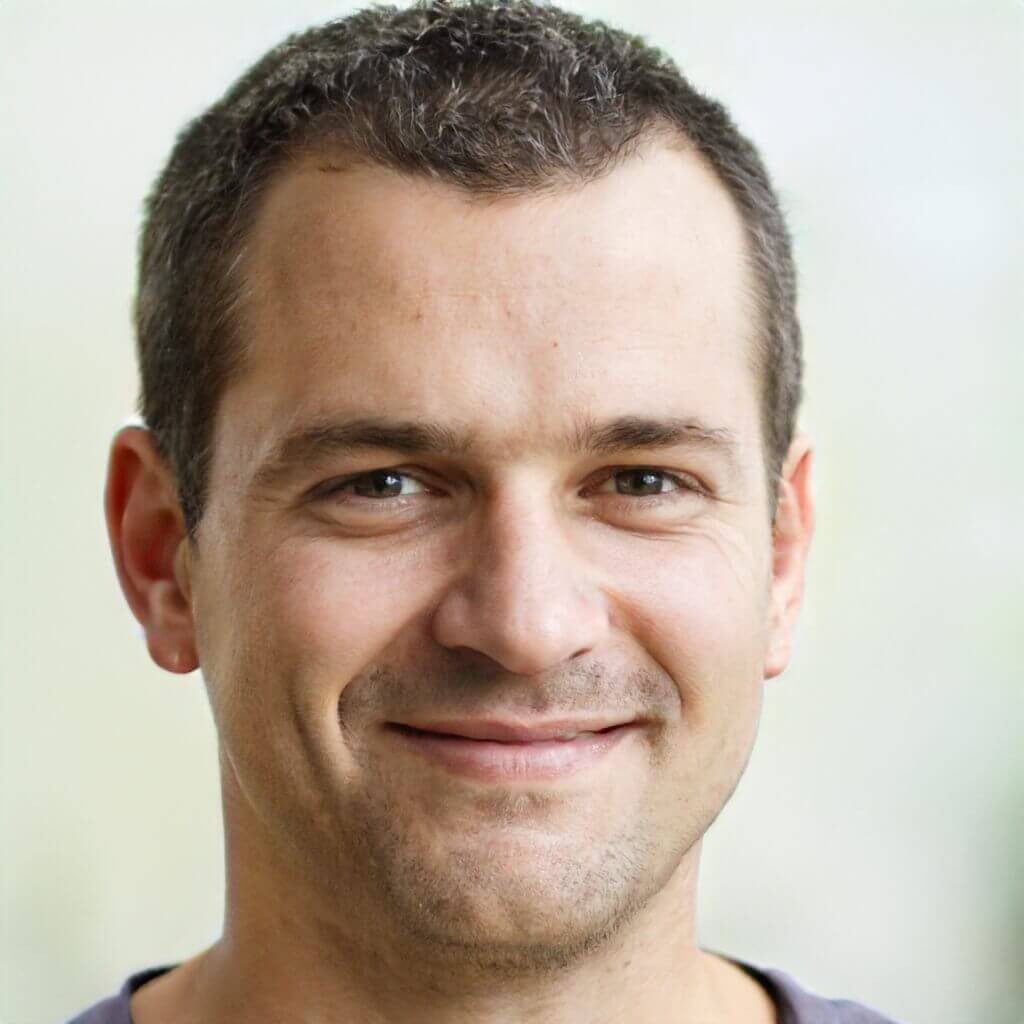 Choosing an Internet service provider is a commitment. And you do so intending to stay with them for the long haul. Nobody likes switching providers; even when the process is painless.
But the reality is that sometimes priorities change. And there are many reasons why you could be considering switching Internet service.
The monthly cost may be too much. Or you're looking for better a customer service experience.
The important thing is to look for providers in your area that cater to your needs. Take a look at your existing service. Highlight key features that you like and features that you wish they offered.

Narrowing down what you want will help you find a better deal that can fulfill all your Internet needs. Here's everything you need to know about how to switch Internet providers.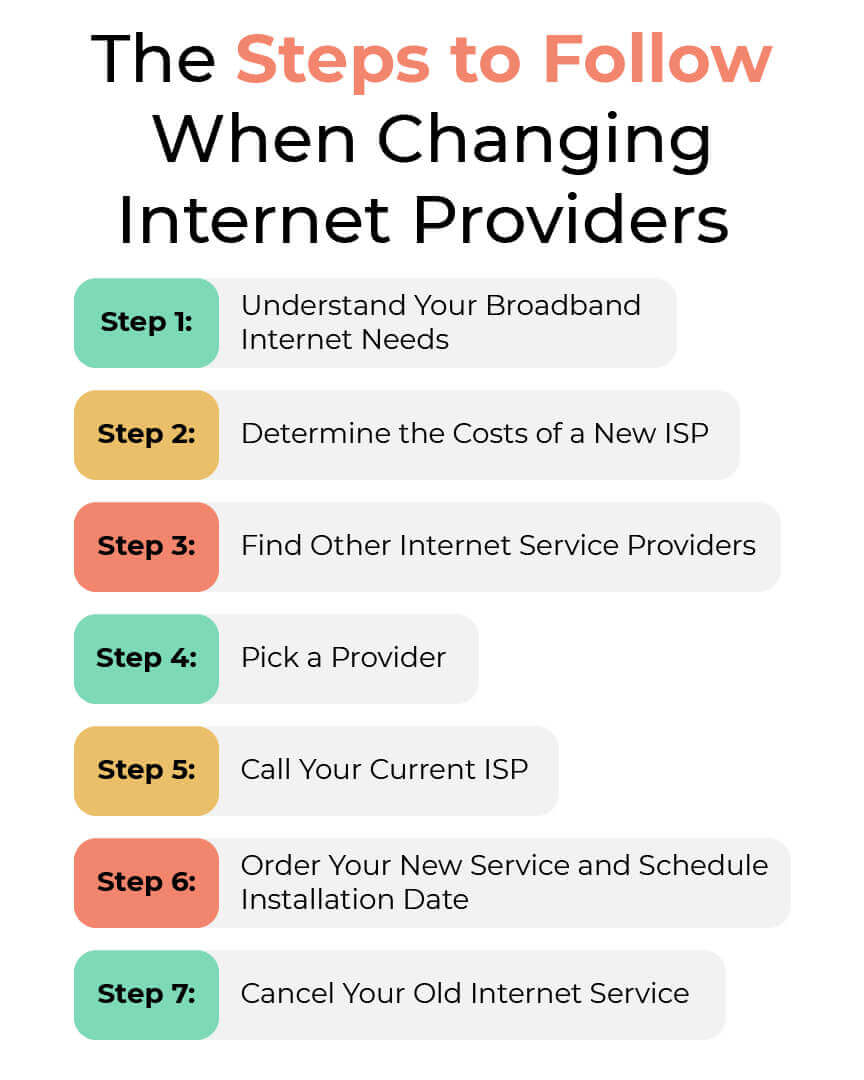 What Is the Process of Changing Internet Providers?
As is the case with any Internet plan, there's a process you have to go through before you can switch providers. Before you sign up for a new Internet package, think about what you're looking for in an Internet service.
There are plenty of Internet options out there to fit your connectivity needs. Don't worry if Internet service providers push you into bundled plans. You always have options. Like, signing up for Internet-only plans.
The key thing to remember is to not feel pressured. You're the one shopping for new Internet plans. And you're doing it for a reason. Remember what your needs are and go from there. Here are some steps to follow.
Step 1: Understand Your Broadband Internet Needs
Switching your Internet service is a hassle. Even when the process is simple, you still have to dedicate time to finding a new Internet provider.
Make things easy for yourself. Start by jotting down everything that you want in the ideal service provider. Ask yourself some of these questions to help you narrow down your needs:
Are there any upfront costs when you install the new Internet service?
Are there any hidden fees?
Will I be needing any leased equipment?
How much speed is ideal for my family or business?
What are the customer's satisfaction rankings?
Another common reason why you may have to cancel your current service is due to an upcoming move. If so, research the major Internet service providers in your new neighborhood.
Pay close attention to the services they offer. Compare Internet providers to see which one offers you the most benefits.
Don't forget to consider the features that your former provider didn't offer. Find providers that can give you everything you missed in your old Internet service.
Step 2: Determine the Costs of a New ISP
One important aspect you need to keep in mind when you're looking for a new ISP is how much it will cost you. Be careful with promotional deals.
They don't always apply to the entire service agreement. Make sure to read the fine print before signing on the dotted line.
Early Cancellation Fees
Don't be surprised if you have to pay a hefty fee when you're going through a cancellation process. Be aware that there are cancellation fees associated with early termination.
Canceling service before your contract ends is not always easy on your wallet. It's common for early termination fees to add up.
New Customer Fees
There are also costs associated with signing up for a new service. Like early termination fees, upfront costs can also add up. You might not have to pay anything on the service start date.
Your new provider may charge you for installation or leased equipment. It all depends on contractual agreements.
No Contract Option
If your current provider signed you up for a no-contract option, you're in luck. These types of contracts are popular because they focus on transparent billing. It's rare for an Internet provider to apply an early termination fee with this type of contract.
Still, there's always a chance for an early termination fee. Wait for your Internet service provider to determine associated cancellation fees, if any.
There shouldn't be any hidden price hikes or any hint of an early termination fee. Talk to your ISP's customer service department and see what they say. It's best not to assume anything.
Equipment Compatibility
It's okay if you don't own your equipment. You'll have to rent everything you need from your new Internet service provider. Even if you own equipment, there's a chance it's not compatible with the new service.
When this happens, Internet providers expect you to lease the equipment from them. Without the necessary equipment, you won't have an Internet connection.
Either way, you'll have to pay something. If you rented your previous equipment, you'll have to return it.
Your previous Internet provider will expect you to pay for shipping. This is assuming you're returning it in good condition. If you didn't rent equipment, your previous Internet provider won't ask you for any returns.
But if your equipment is not compatible, you'll have to invest in a new one. Or, plan on renting it from your current Internet service.
Step 3: Find Other Internet Service Providers
Now that you know what you want and you're aware of costs, it's time to find other providers in the area. In the United States alone there are 1,398 Internet providers. You should have at least a few options within your neighborhood.
Remember that your location plays a big role in how you find Internet providers. The type of broadband Internet that's available to you depends on where you live.
For example, let's say that you're looking for faster Internet speeds. And you know fiber Internet technology is the best.
Even though you want to find a provider that offers it, it might not be an option for you. Internet technology continues to experience limitations. And not every type of broadband Internet is available everywhere.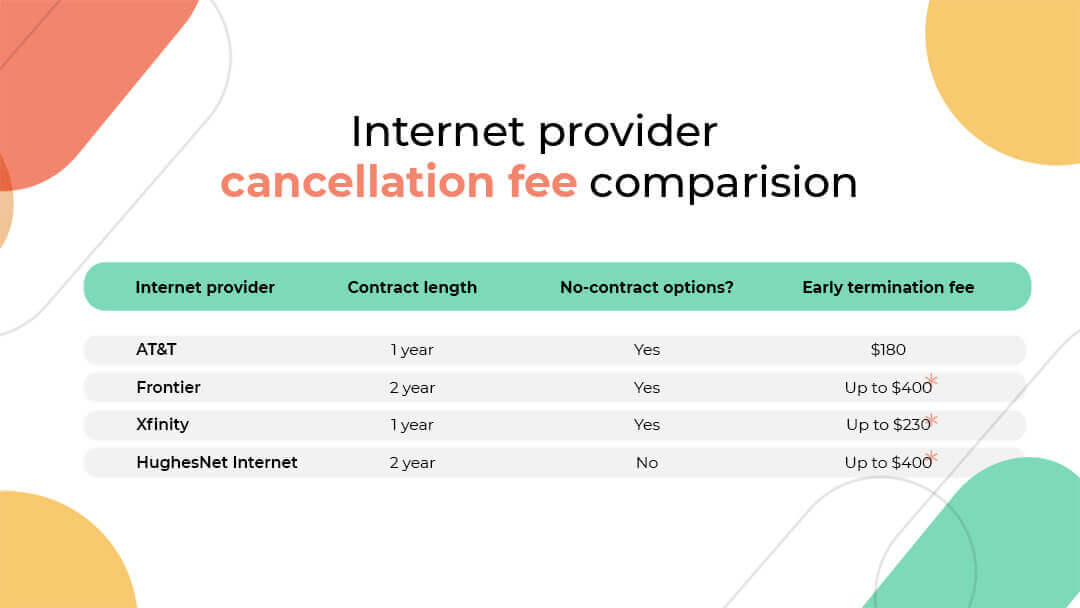 Comparing Internet Providers
There are options available for providers in your area. This is why it's key to compare them and see which one is the best fit.
Think about the number of devices you have when comparing Internet providers. Internet speed varies depending on the data plan you choose and the number of users and devices.
If you're shopping for Internet-only plans, pay close attention to the download speeds. Download speeds are responsible for how fast you can view a website or download a movie.
It's important to find a plan that can support the needs of everyone in the family. This is a good way of ensuring customer satisfaction.
Here are other factors you should look at besides Internet speed.
Customer Satisfaction: How was the customer service with your new Internet provider? Were you happy? Before you sign a contract, make sure you're happy with the way customer service treats you. These are the people you'll be dealing with whenever you have a problem. Customer satisfaction is key to your happiness as a customer. Your new provider should not make you want to look for better customer service elsewhere.
Satisfaction Guarantee: As the customer, your satisfaction with the product matters. Your current Internet service shouldn't cause you stress. If you're unhappy with your new service, take a look at their satisfaction guarantee. You might be able to take advantage of it and back out or switch to a different plan. Make sure to read the fine print on your contract and see what the rules are.
Watch Out for Promotional Deals: Your new provider will try to offer some type of deal at sign-up. From cable TV with 1,000+ channels to a low monthly bill, anything is possible. But, be aware of introductory offers. Depending on the contract, your monthly bill could spike up at the end of the quarter. Always ask your current provider about price changes and their cancellation process.
Step 4: Pick a Provider
Switching provider companies is stressful. This is the part when you'll be able to look at all your research and make a decision.
Don't rush or settle for anything that makes you uncomfortable. Focus on all the features that are important to you so that you can have the best Internet experience.
To recap, consider:
Speed
Data Caps
Costs
Cancellation Policies
Bundling Options
Customer Service
Step 5: Call Your Current ISP
You're calling your ISP to let them know about your plans. Don't cancel the service yet. When you contact them, they will route your call to one of their retention agents. Their job is to do everything they can to not let you go.
You've done your research. Be honest with your retention agent and explain why you're switching Internet providers. Even if it's something that's completely out of their control like you're moving out of the country. It's best to keep the conversation transparent and honest.
Your retention agent will attempt to lure you with promotions and discounts. Be firm about why you want to cancel your service.
It's completely okay if you decide to stay with your current Internet provider. It happens. Sometimes it all takes to solve the issue is to talk to someone.
If not, don't commit to cancellation just yet. You'll be left without Internet service until you're able to set up the new one. This may be something you can fix right away or it can take a few days.
As a precaution, ask the rep whether you can cancel online. It doesn't hurt to know for future reference.
Step 6: Order Your New Service and Schedule Installation Date
This is the easy part. You did your research. You called your current service. And you know exactly why you're switching Internet service providers.
All you have to do now is call the new Internet company and set up an installation date. They will ask you why you're switching Internet providers. Always keep the conversation honest. This will help them provide you with the best service.
Step 7: Cancel Your Old Internet Service
It's important to not officially cancel your old Internet service until you have everything set up with the new one. Not having Internet is an inconvenience. Especially if you're moving, it's key to reduce the number of tasks that cause you stress.
As a rule of thumb, wait until your new ISP installs the service. Make sure it works well and that there are no issues. Once your new service is up and running, go ahead and cancel your contract with your previous provider.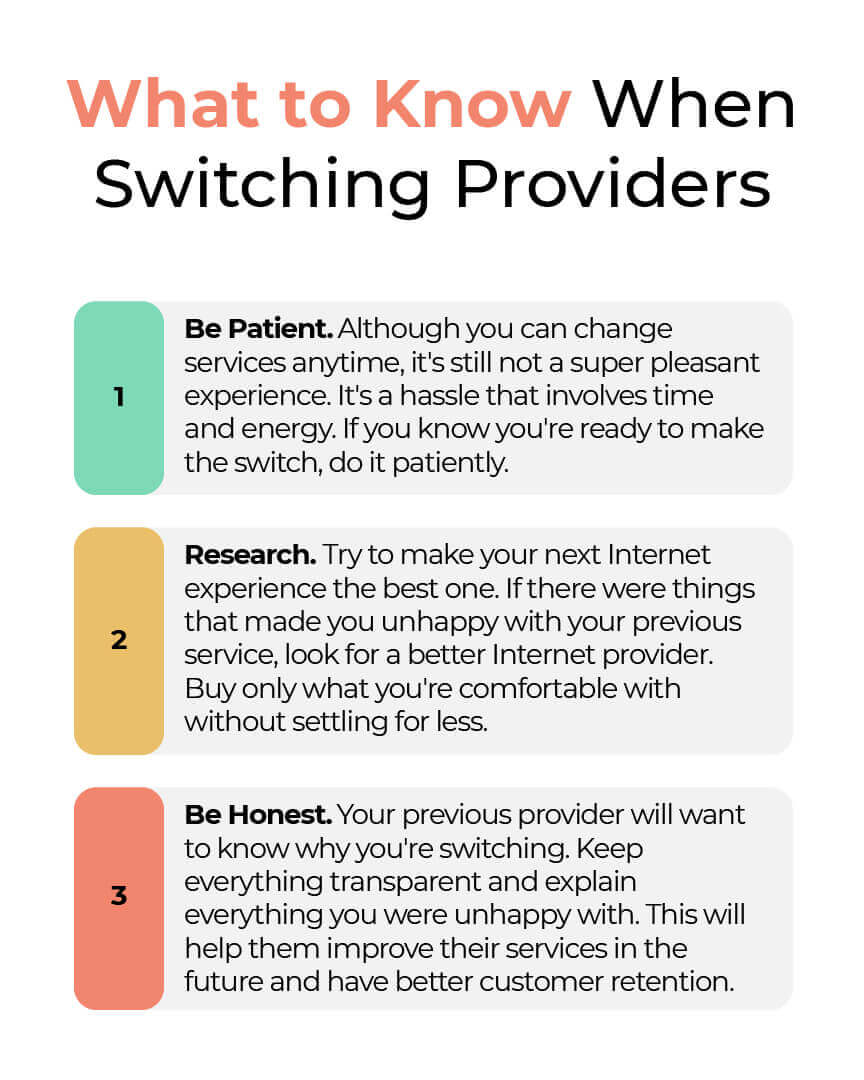 What to Know When Switching Providers
Be Patient. Although you can change services anytime, it's still not a super pleasant experience. It's a hassle that involves time and energy. If you know you're ready to make the switch, do it patiently.
Research. Try to make your next Internet experience the best one. If there were things that made you unhappy with your previous service, look for a better Internet provider. Buy only what you're comfortable with without settling for less.
Be Honest. Your previous provider will want to know why you're switching. Keep everything transparent and explain everything you were unhappy with. This will help them improve their services in the future and have better customer retention.
Frequently Asked Questions
When Should I Cancel Internet When Switching?
You should always cancel your plan after you've set up the new service. This will prevent you from spending any length of time without Internet or cable.
What Do I Need to Know Before I Switch Internet Providers?
Understand what your needs are in an Internet plan. Pay close attention to Internet speeds and fees added to your monthly bill.
It's also important to consider the equipment you need to set up an Internet connection. If you don't already own a modem and router, you'll need to lease one from the company.
If you already own your equipment, there's a chance it might not be compatible. Always check with the provider to make sure everything will run smoothly.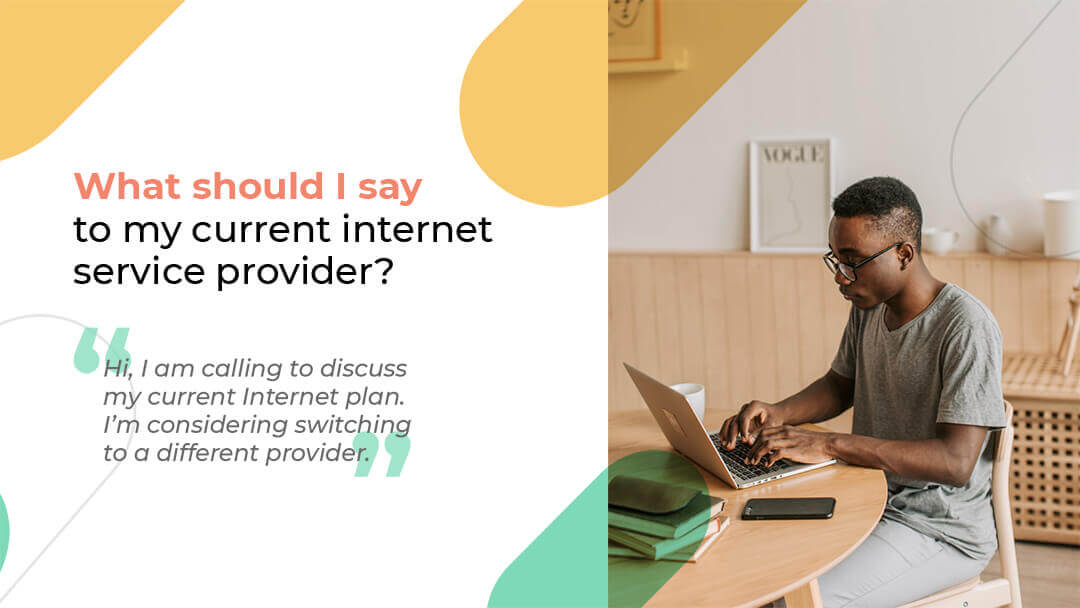 Can I Just Switch Internet Providers?
Sure. You can switch Internet providers whenever you want and for whatever reason you want.
Keep in mind that there is a process to do this, though. Make sure you're prepared to spend the time that you need to research, sign up, and cancel services.