The Best Modem/Router Combos of 2023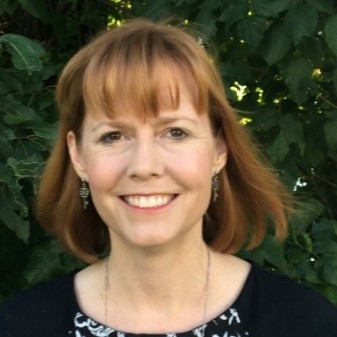 Thinking of getting home internet service or switching to a new provider? To get the best internet connectivity, you'll need equipment that's up to today's internet standards. You need a modem and a wireless router, or a modem-router combo often called a gateway.
Many ISPs now provide you with a modem-router for free as part of your monthly plan fee. But some internet service providers will give you the option of renting equipment through them. While this option is convenient, it's not always the most cost-effective.
Your internet plan is more flexible than you may realize. You don't have to stick to the rentals. If you want to achieve a certain Wi-Fi speed, you can often choose the equipment that works best for you. There are options.
When you own your modem/router combo, you save about $100 per year on rental fees. What's more, with your own modem/router combo, you have the power to choose which combo unit works best for your needs.
This guide will walk you through the best 2023 modem/router combos available on the market. Plus, you'll get a run-down on all the basic information you'll need to make the best choice.
Top Modem/ Router Combos 2023
Here are the top five combos in the market today.
Motorola MG7700

If you want the absolute best modem/router, the Motorola MG7700 will be the ideal candidate. Motorola describes this combo as a cable modem with a dual-band Wi-Fi gigabit router plus a power boost.
This is a high-performance cable modem that supports multimedia and Internet video. With a built-in AC1900 3×3 wireless gigabit router, the MG7700 provides you with a lot. Including ample range and wireless Wi-Fi speeds. The only real downside to this device is the lack of USB ports.
This modem/router combo packs all the best features into one sleek package. One such feature is what Motorola calls the "Wireless Power Boost." This feature allows you to extend the range and amplify your wireless signal, without the need for Wi-Fi extenders. You can have a strong signal range across your household from the gateway alone.
Specs
24 x 8 DOCSIS 3.0 cable modem router combo
Download speed is 24 times faster than DOCSIS 2.0
High-speed AC1900 Wi-Fi Gigabit router with four-gigabit ethernet ports
Provides high-speed shared Internet for up to 253 wireless and ethernet devices
Advanced firewall for extra security
Compatible with Comcast Xfinity and Cox
ARRIS SURFboard SBG7600AC2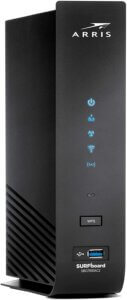 The Arris SURFboard SBG7600AC2 is one of the most modern combos available on the market. It offers more speed and network capability than other popular combos. It also offers unparalleled performance.
The Arris SURFboard SBG7600AC2 offers powerful Wi-Fi speeds of up to 600 Mbps. This device is perfect for households with multiple devices. Extra perfect if many users are engaging in different online activities.
It comes with 32 downstream and eight upstream channels. These will make gaming, sharing, and streaming a breeze. Plus, you can track suspicious activity from your mobile phone or tablet.
Specs
McAfee protection for added security
Four-gigabit ethernet ports
Dual-band Wi-Fi
Compatible with Comcast Xfinity, Cox, Spectrum, and other major cable internet providers
DOCSIS 3.0
NETGEAR Nighthawk C7000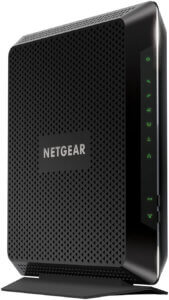 There are two great things about the NETGEAR Nighthawk C7000. This cable modem and Wi-Fi router give you fast Internet speeds and reliable Wi-Fi. All separate devices around your home can enjoy the same connectivity. Plus, it supports Wi-Fi 6.
Because of these features, your chances of experiencing latency issues are minimal. This is the best device you can get if you're looking for gigabit speeds. You'll get Wi-Fi speeds of up to 1.9Gbps for extreme gaming and streaming.
This combo offers one coaxial cable port, one USB 2.0, and four-gigabit ethernet ports. Three built-in antennas increase its performance. Plus, the device offers you plenty of flexibility to adjust settings to your liking.
Specs
Parental controls available
Dual-band Wi-Fi Router
DOCSIS 3.0, 24 x 8
Compatible with Comcast Xfinity, Cox, and Spectrum
ARRIS SURFboard SBG10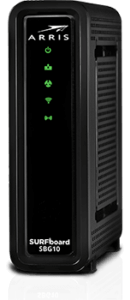 If you're looking for quality but without breaking the bank, here's your best option. The ARRIS SURFboard SBG10 is budget-friendly while remaining efficient and offering you a decent Internet speed. Think of this modem and wireless router combo as the most powerful, but economical choice you can make.
This gateway comes with two-gigabit ethernet ports and the ability to monitor and manage your account through your mobile phone or tablet. It's compatible with most Internet providers and it's the perfect upgrade if you have a home network with lower bandwidth.
Overall, the SBG10 is user-friendly and budget-friendly. For performance, this modem/router combo supports up to 300 Mbps download speeds. And the dual-band support will allow you to comfortably connect multiple devices without slowing down your Internet speed.
The downside is that wired connections are limited. There are no USB ports and you only get two gigabit LAN ports.
Specs
DOCSIS 3.0, 16 x 4
Dual-Band Support
Two 1-Gigabit Ethernet ports
Compatible with Comcast Xfinity, Spectrum, and most major cable internet providers
Maximum download speed of 300 Mbps
Motorola MG7550

This particular model of modem/router combo is cost-effective and will provide you with strong wireless signals without compromising speed. Of all the cable modems and routers described in this guide, the Motorola MG7550 can work on Wi-Fi DFS frequencies. DFS will make your connection less vulnerable to interference from anyone outside your network.
The combo features 16 downstream and four upstream channels that can reach up to 123 Mbps uploads. The MG7550 features a full-band digital tuner that allows you to reach the fastest connection by selecting the channels with the least traffic. All in all, the MG7550 is a solid option that doesn't break the bank.
Specs
DOCSIS 3.0, 16 x 4
Dual-Band Wi-Fi
4-Gigabit Ethernet ports for optional connections to computers, tablets, and HDTVs.
Certified by most gigabit Internet service providers, which makes it compatible with most services.
Built-in parental controls
How to Choose a Modem/Router Combo
The first thing you need to know about buying your own modem/router combo is that you'll have a number of options. To choose the best, you'll need to know whether you are an average-bandwidth user or a high-bandwidth user. Do you stream lots of HD video or play online real-time games? Do several devices in your home stream at once? If so, you'll need more bandwidth.
The best modem/router combos should have an array of features that will make life easier for you. But you'll also want to save money by bypassing features you don't need. For example, are you looking for Wi-Fi 6 technology? Do you need extra bandwidth that Wi-Fi 6 provides?
The reality is that many modem/router combos aren't yet able to support the Wi-Fi 6 standard. But that may not matter for your needs.
If you're an average bandwidth user, modem/router combo with Wi-Fi 5 support will be able to provide you with everything you need. And that's available everywhere.
You can always splurge on a nice Wi-Fi 6 router if you want one. But the idea here is to get the most bang for your buck. Try to choose the modem/router combo with the best chances of giving you the Internet speeds you want.
Make Sure Your Modem/Router Combo Supports Your Internet Provider
This is the most important tip in this guide. If your modem/router combo doesn't support your ISP, there's not much you can do with the equipment.
All major cable internet providers need equipment to meet different requirements. Before you commit to the perfect modem/router combo, check your ISP's requirements.
If you can't find the specs, don't worry. Most modem/router combos will list supported cable internet providers. And if that's not an option, there's yet another way for you to check compatibility.
Websites
Third-party websites can help you decipher specs. They give you the detailed information you need before you make your final decision. Websites like approvedmodems.com can help you throughout this process.
On these websites, you'll find a list of compatible modems and modem/router combos for different internet providers. This will help you narrow down your choices to those that are compatible with your chosen ISP.
Call Your ISP
Most major cable providers service a large part of the United States. If you're in an area with limited access to major ISPs, you'll have to find another way to get the information you need. You're not likely to find specs for smaller ISPs on national websites.
When in doubt, call your provider and ask them their requirements for equipment. They will guide you to a modem/router combo that's compatible with their service.
Check Activation Process
Remember, you'll have to install the equipment yourself. Check with your ISP and get a grasp of the activation process. Do this before you start installing so that you can avoid unnecessary hassle.
While some Internet providers offer automatic activation, others don't. DSL providers might have a different process than cable providers. The activation process will vary depending on your ISP.
Get a DOCSIS 3.0 or DOCSIS 3.1 Device
Data Over Cable Service Interface Specifications, or DOCSIS, describes a particular standard. It's the standard modems need to support speeds above a certain number of Mbps. Although DOCSIS 3.0 and DOCSIS 3.1 are the most common standards, they're not the only ones.
DOCSIS 3.0 and DOCSIS 3.1. were the first standards to allow a modem/router combo to support internet speeds over 40 Mbps.
Although DOCSIS 4.0 exists, today most users' bandwidth falls within DOCSIS 3.0 and DOCSIS 3.1 standards.
DOCSIS 3.0 standard devices can handle download speeds of up to 1 Gbps (1 Gig). They can also support upload speeds up to 200 Mbps.
The DOCSIS 3.1 standard gives devices the capacity to perform at a download speed of 10 Gbps. Upload speeds go up to 1-2 Gbps.
With a speed of 10 Gigs, you can download a 4K movie in less than 30 seconds.
Understand What Downstream and Upstream Channels Are
As your hunt for the perfect modem/router combo progresses, you'll want to be aware of key terms. It's important to understand what "downstream and upstream channels" mean. This will help you make a more educated decision.
For your cable modem to work, it needs to communicate with your Internet provider. It does this through channels. Industry experts refer to them as upstream and downstream channels.
Downstream and upstream channels are important. They are in direct connection with your bandwidth and Internet speed. When the data travels through the channels, it dictates the speed of the content. This is how fast you can upload and download data.
The higher the number of channels, the better your chance of having blazing speeds. To give you a better idea of how the channels work, it's helpful to visualize what they look like.
Most modem routers will come with a number that looks something like this: 16 x 8. The first digit represents the number of downstream channels.  The second digit is the number of upstream channels.
The higher the number of downstream channels, the faster your downstream speed will be.
As for upstream, having a device with four channels is standard. But if you use gaming consoles, try aiming for eight upstream channels instead. This will give you faster upload speeds and fewer lagging issues.
Pay Attention to the Upload and Download Speed
Earlier in this guide, you read about the standards that cable modems support. A cable modem with DOCSIS 3.0 should be able to reach a download speed of up to 1 Gbps and an upload speed of up to 200 Mbps. But this speed is not a guarantee.
Although most modern routers can handle these speeds, the final results can change. The model of modem/router combo you own will dictate the maximum speed you can reach. Older models don't have the necessary protocols to support gigabit speeds.
When in doubt, check the reviews. The best modem/router combos have plenty of official reviews and user reviews. Reviews give you a more accurate view of speed performance and compatibility.
Advantages of Modem/Router Combos
Owning a combo instead of two separate devices allows you to save space, maximize multi-gigabit speeds, and get more ethernet ports. But there are also a few more reasons why combining the two devices works best.
Cost. It's cheaper to splurge on one device that has all the features you need for connectivity. However, power users sometimes prefer to own the devices separately. This leaves room for future upgradeability and personalization.
Space. A modem and router don't take up much space. But having one device minimizes the overall area you have to use for equipment. And if you live in tight quarters, space might be a deciding factor in your choices for equipment.
Set Up. Instead of having to install two pieces of equipment, you only have to worry about one. This makes the process easy and user-friendly.
The Downside of a Modem/Router Combo
If you're still on the fence about getting a combo, consider some of the downsides.
Limits with ISPs. If you've been thinking about switching ISPs, there's a chance they won't be compatible with your particular modem/router combo. It's much easier to find compatibility when the two are separate. Needless to say, this process can be headache-inducing if you find yourself having to search for new modem/router combos so that they're compatible with your new provider.
Not Enough Power. Let's say you upgrade your living situation and move into a larger home. Your modem/router combo might not be powerful enough to reach all areas of your new home. You'll either have to invest in Wi-Fi extenders or get a new combo altogether.
FAQs about Modem/Router Combos
What Is the Strongest Modem/Router Combo?
Currently, the most powerful modem/router combo in the market is Netgear C7000. This combo has the advantage of wide compatibility with most providers.
Netgear C7000 has powerful capacities to support the DOCSIS 3.0 standard and can reach up to 400 Mbps. It's moderately priced and it has an excellent range.
Is it Better to Have a Modem/Router Combo or Separate Devices?
There are plenty of reasons to consider owning separate devices. But unless you have very specific features that you want in a wireless router, it'll be easier to group them as a combo.
Think about your needs and consider whether it's worth investing in two separate devices. Most of today's modem/router combos can support multiple devices and users. In the end, those are some of the features that will make your life easier for connectivity.
What Should You Look for in a Modem/Router Combo
If you're new to choosing internet equipment, focus on the three basic features of a modem/router combo.
compatibility with your ISP
DOCSIS standard
speed
Don't forget to check the specs that your ISP wants in the ideal package. Knowing these three basics will make your shopping process much easier.